St Joseph's College Rugby Festival 2015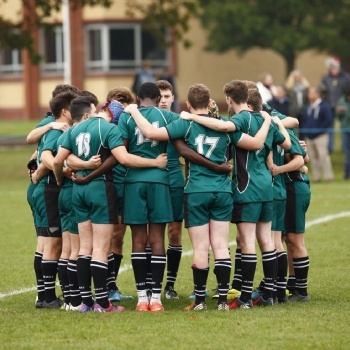 For the first time, Gordon's had been invited to take part in this prestigious National Schools Rugby Festival in Ipswich
For the first time, Gordon's had been invited to take part in this prestigious National Schools Rugby Festival in Ipswich. The invitation had come from rugby progressing at Gordon's over the last ten years and some considerable success especially in the last two.
Training started at the start of the Autumn Term to ensure the squad was ready to participate in this high level competition. All of the boys were really excited at the prospect of facing these big Independent Schools with great traditions in rugby, including Dulwich, Millfield and Hampton.
The tournament came about quickly but the squad was well prepared after wins against Halliford and Forest in our local league.
The squad arrived early in Ipswich on the Friday and had a training session at St Joseph's before the competition started on the Saturday. Then in the evening we had a team meal at Pizza Hut followed by an early night.
Our first game on the Saturday was against Millfield, last year's winners. We made a nervous start but gradually settled into some rhythm. Next up was Brighton College who had a fantastic backline who were powerful and quick. Gordon's made some excellent tackles and built a strong wall in defence, but could not hold out the power and knowledge of some skilful players. Our final group game on the Saturday was against RGS Newcastle, where we took an early lead from a penalty and were up at half time, but a tough decision went against us in the second half and we eventually lost a close encounter.
Due to our results on the Saturday we went into the Plate Competition. Our first match was at 0820hrs against QEGS Wakefield. This was our best game of the weekend and we ran them very close after a superb team try. However a good line out and drive by QEGS meant we conceded with 2 minutes left to lose 14-10. QEGS later made the Plate Final. We also met the hosts St Joseph's on our second match and they had a point to prove having not a good first day. A strong and vocal crowd made it hard for us to find some patterns and we lost. Our last game was against St Peter's, Gloucester and again the boys started well but leaked a couple of tries in the second half due to some very tired bodies!
The boys loved the whole atmosphere of this fantastic competition and they have all learnt so much, which will hopefully lead on to us producing some dominant performances in our local circuit for the rest of this season and years to follow. It was an honour to be invited and the boys were a credit both on and off the field. Gordon's School have made lots more friends in the National Schools Rugby world and long may it continue.
Scores:
Gordon's

3

vs

Millfield

38
Gordon's

0

vs

Brighton

24
Gordon's

6

vs

RGS Newcastle

23
Sunday 18 October
Gordon's

10

vs

QEGS Wakefield

14

Gordon's

0

vs

St Joseph's

31
Gordon's

0

vs

St Peter's, Gloucester

19