CCHF All About Kids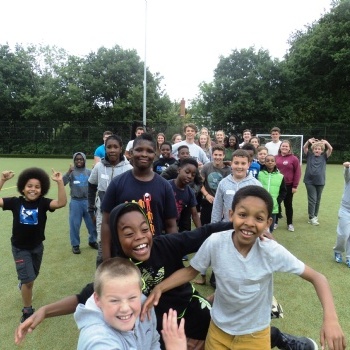 Gordon's School sixth formers organise a brilliant week of fun actitivies for children supported by 'CCHF All About Kids'
"CCHF All About Kids exists to give disadvantaged children a range of residential activity and respite breaks. We improve the quality of children's lives and help them to recognise their potential in a safe and happy environment."
http://www.cchf-allaboutkids.org.uk/welcome.htm
From Monday 27th – 31st July, Gordon's School was home to 22 boys from the London area aged between 9-11 years old. During their stay in Balmoral House, the boys took part in lots of fun activities, including a trip to the beach.
Other activities included sports, swimming, archery, mountain biking, treasure hunts, robot wars, pizza making, movie night, Pipes and Drums workshop, DT workshop, Olympic games, water fight, bingo and even a night walk!
We would like to thank the catering staff who served the boys meals in the Dining Hall, Mr Short, our Bandmaster, and Mr and Mrs Fox who all gave up their time to run activities.
Huge thanks also go to the 16 Sixth Form helpers who have been fantastic organising all the events for the week. They are:
Charlie Arnold Jones
Rohan Bagshaw
Toni Lesi
Ben Dunkerley
Christopher Thurgood
Ben Pfeil
Arabella Segar
Jessica Kruger
Charlotte Chatfield
Charlotte Clooney
Katie Bowen
Oliver Francis
Robert Pearman
Chloe Norman
Jeremy Rumball
Molly Hieatt
Victoria Howard Andrews
Jack Greetham