Gordon's School 24 Hour Nepal Fundraiser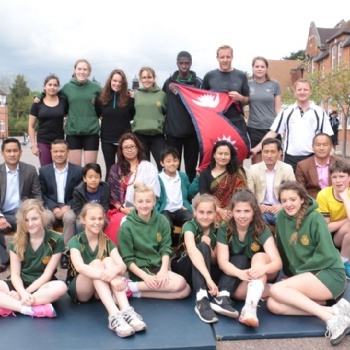 Gordon's School has raised over £2,500 so far!
On Friday 8th May Gordon's School, who have been on several Duke of Edinburgh expeditions to Nepal, successfully took on a 24 hour training session to raise money for the Nepal Earthquake Relief Fund. Members of staff and over 300 students took part in a one hour (or more!) training session throughout the 24 hour period consisting of 'Ton Up' circuits and laps of the Parade Square.
Overall, Gordon's managed to complete 49.5km worth of step-ups; enough to climb up Everest from sea level…over 5 and a half times! Staff and pupils also ran the equivalent of over 20 marathons and the distance rowed would take them from Portsmouth to Lisbon. In total, Gordon's managed to complete the following exercises:
1,638 Burpees
6,552 Press ups
14,742 Alternate sit-ups
26,208 Step press
40,950 Squat thrusts
58,968 Crab kicks
80,262 Dips
104,832 Dorsal raises
132,678 Crunches
163,800 Step-ups
"A massive thank you to all pupils who got involved in the fundraiser on Friday and Saturday. It was more successful than I could have possibly imagined and I'm very grateful to all who came along and gave up so much of their time and energy. A special thank you to all the boarding houses for their efforts in the middle of the night!"
Graham Alford, Head of Science