Gordonian Gives Careers Talk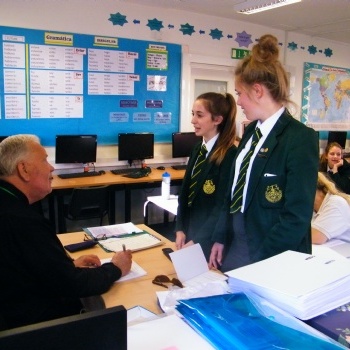 Career Industry Talk - A career in the Police and Secret Service
On Tuesday 21st April we welcomed Gordonian, Michael Healey, to talk to pupils about his career in the Police and Secret Intelligence Service. 27 pupils attended this fascinating talk. Here are some key points from his talk:
Being able to speak a foreign language is useful for SIS applications
You must be over 21 and a UK resident for over 10 years to apply for the SIS
You must not tell anyone if you apply for MI5 or MI6
SIS are often looking for middle aged female applicants!
Michael also conducted a short quiz to see how much pupils knew about the key competencies sought after for entry into the police force. Congratulations to Imogen Keits, Sophie Chan, Chloe Burrell and Emily Smith who won M&S vouchers and/or a signed copy of Michael's best selling book 'Almost a Constable'. A list of these core competencies can be obtained from the Careers Room in the McQuillen Link.