Olympic Rower Sir Steve Redgrave visits Gordon's!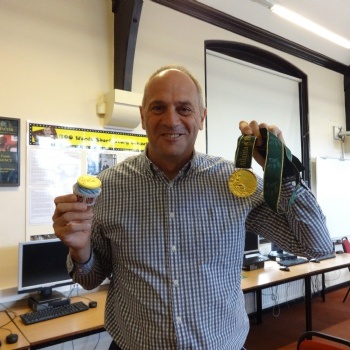 Career Industry Talk – A Career as an Elite Sportsperson
On Tuesday 28th April 2015 we had the privilege of welcoming Olympic Rower, Sir Steven Redgrave to the school to talk to a select group of pupils about his career. During the hour long session he spoke generally about the sports industry and what it takes, both mentally and practically to get into a sporting career.
He reflected with pride on being given the opportunity to carry the Olympic torch in 2012 and shared some of his experiences of life after sport. He says that he hasn't really done a day's work in his life. Of course, this depends on how you define 'work'. We beg to differ!
Despite saying that he was on a tight schedule on the day, he gladly stayed behind afterwards for cake and photos with staff and pupils. We must also give a huge thank you to the catering team who prepared some fantastic gold medal themed fairy cakes. Sir Steven was very impressed, hopefully impressed enough to visit us again in the not too distant future.