Bracknell Invitational Cross-Country Relays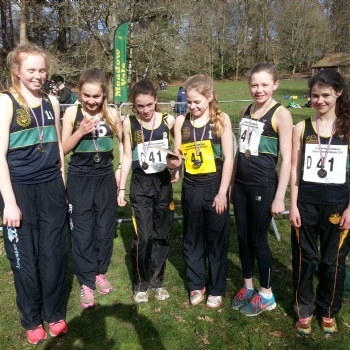 On Wednesday 4 March, 22 boys teams and 26 girls teams competed for the annual Bracknell Invitational Cross-Country Relays
On Wednesday 4 March, 22 boys teams and 26 girls teams competed for the annual Bracknell Invitational Cross-Country Relays attracting teams from Surrey, Hampshire, Berkshire and Buckinghamshire.
This is a different event to a normal cross-country meet, in that the teams are made up of 2 Year 7's, 2 Year 8's and 2 Year 9's all running the same distance on each leg.
This has always proved to be a popular event for both competitors and spectators alike, in that the lead position can change frequently throughout the race.
The boys were always up against it with some very strong opposition coming from four counties. They finished up in 8th position having worked hard throughout.
The girls, again were up against really strong opposition, However with the quality of runner we have, they finished in a very impressive second position.
The girls team was made up of Amy Dove, Phoebe Norman, Abi White, Katherine Gooch, Keavy Bye and Sophie Dove. The boys consisted of Olly Blackwell, Jesse Holmes, Reef Peries, Corum Nott, Max Beken and James Archer.
Well done to all, a great effort throughout.