Inter-House Table Tennis Results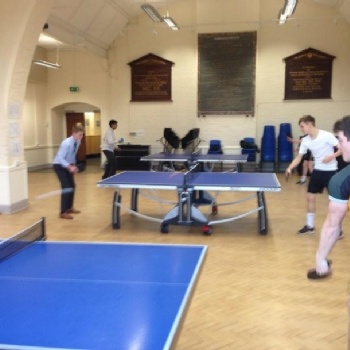 Khartoum House win the Inter-House Table Tennis Competition 2015!
Congratulations to Khartoum House who have been announced victorious in the Inter-House Table Tennis competition on Monday 9 and Tuesday 10 February! A close tournament saw Gravesend House fall to second place just one point behind the winners and joint third place for Balmoral and Buckingham House! Overall breakdown of points are as follows:
1st place - Khartoum House – 12pts
2nd place – Gravesend House – 11pts
3rd place (equal) – Balmoral House – 8pts
3rd place (equal) – Buckingham House – 8pts
5th place – Sandringham House – 6pts
Individual winners were:
Year 7 and 8 - Bertie Hebburn Heath (Balmoral)
Year 9 and 10 - Tate Pilgrim and David Hutchings (Khartoum)
Year 11 / 6th Form - James Gower (Khartoum)
Well done to all students and thanks to staff who helped organise the annual event.