Business Studies Dragon's Den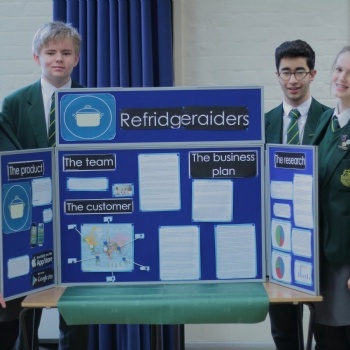 Gordon's pupils thrown to the 'Dragons'!
GCSE Business Studies Dragons' Den Event - Monday 2nd February
About 40 year 10 students were put through their paces by taking part in a 'Dragons' Den' style presentation, as part of their GCSE business studies course.
Learning about how to set up a successful business, students have been working in teams to create a business plan to present to the 'dragons', members of the business community, who in the style of the popular BBC TV asked questions and grilled the students on their plans.
Business ideas ranged from environmentally friendly suits to trainers with interchangeable soles but the idea deemed 'most likely to succeed' was a innovative fridge barcode scanner put forward by David Hutching, Stephanie Bradbury, Nathaniel Vann and Jordyne Hodge in their team 'Vann Incorporated'.
Andrew Grace, Head of Business Studies said: "The presentations were absolutely fantastic and all pupils are to be congratulated for their efforts. It is important that that all these pupils develop a passion for business as they will be the entrepreneurs of the future, and running successful events such as 'Dragons' Den is integral to this.
Please click here to view more photos from the event.