Victoria House Official Opening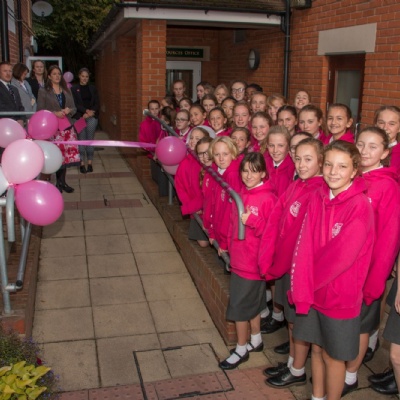 On Thursday 13th October 2016, a bright pink ribbon was cut by the Chairman of Governors, Mr Richard Wittington, to declare Victoria House officially open! The newly refurbished House becomes the 5th Girls' House at Gordon's School and will provide a 'home from home' for many generations of students.
Head Teacher, Mr Andrew Moss, spoke of his delight that the new House was now up and running and Victoria's Student Head of House, Eleanora Crespi, spoke confidently about the House achievements thus far and their new role in Gordon's history.
Ms Maslen, Head of Victoria House added:
"Although today is our official opening, Victoria House has already become something we are all immensely proud of.
I am so grateful to all those who have worked on the building, in particular to Mr Bryan for his dedication and his commitment to ensuring that our vision for Victoria House was realised.
I am privileged to be supported by three outstanding tutors as well as my right-hand Mrs Phillips who is a constant source of strength, knowledge and encouragement. The staff are excellent role models and exemplify the ethos that is the foundation for what we are creating.
The building might be the body but the girls are the beating heart that drives all that we do. They have already amazed me by their attitudes and their enthusiasm. They are the pioneers and they are creating something truly iconic. They are setting the tone and creating a legacy for all those who walk through the doors for many years to come. They are victorious in all that they do!"