Mock Trial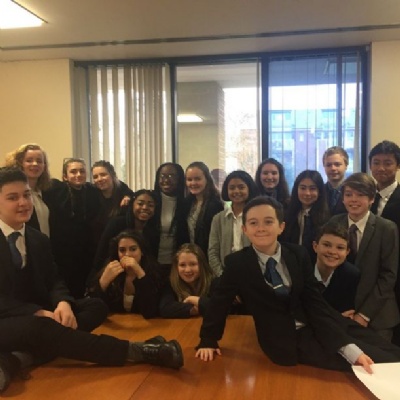 The experience of Mock Trial was something that could quite possibly change the entire course of someone's career choice, and for some it has! Let's explain how, from the beginning.
Twenty Year 8 and 9 students auditioned for the opportunity to participate in a Crown Court Mock Trial; we were all lucky enough to gain a place. We all took on a variety of different roles – some of us had pivotal roles that changed everything that happened in the courtroom. We presented a defence team and a prosecution team who were arguing their views on a case of theft. Each team went up against another school in Surrey at Guildford Crown Court.
The lawyers had to learn the facts and statements inside-out, and scrutinise the case (in order to write opening and closing statements, pose questions and cross-examine witnesses). We found that having to think on our feet was one of the most challenging but most rewarding aspects of being a lawyer. Between us all, we also took on the roles of witnesses, magistrates, court reporters, court artists, usher and legal adviser. We rehearsed during a p7 and two lunch times a week in the months leading up to the Trial, and we were fortunate enough to have two real magistrates come in to advise us. We all had to dedicate lots of extra time and hard work to the Mock Trials, and it was this team effort that meant that we became second in the County – quite an achievement for Gordon's School's debut in the competition!
Persistence, preparation, confidence, articulation and eye-contact were just some of the areas we were scored in. We also had to dress smartly in suits and learn key courtroom language, such as to use 'my learned friend' when addressing the opposing lawyers. It was all very exciting! We feel that our understanding of the law and the British criminal justice system have developed, and we have become more ambitious, confident, well-spoken and perceptive.
On the day at Guildford Crown Court we were able to have a tour of the cells, and to meet the police dogs! The prison officers also gave us a very convincing re-enactment of a prisoner unhappy about being taken from the police van to a cell – it really made us respect the hard work that the officers put in. We also had a Q and A session with judges, lawyers and magistrates which enabled us to learn much more about the different roles.
The whole experience has inspired lots of us to aspire to a career in law, and we are glad that it pushed us beyond what we thought we were capable of. We look forward to participating in the Mock Trials again next year, as well as stepping up to the Bar Mock Trials!